I was recently reading "modeldad"'s article on the Fiat Cr.42 piloted by Sgt. Pietro Salvadori, who made an emergency landing at Orfordness (
http://www.stormomagazine.com/Re-evalat ... _1940.html
), and I would tend to dissent with the idea that the uppersurfaces were originally painted in only two colours.
If we confront this photograph: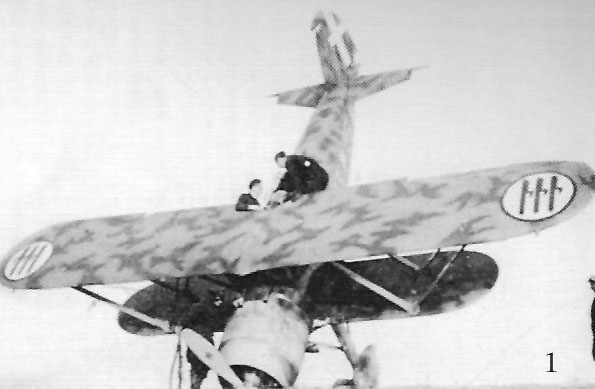 with this one:
We can clearly see how the darker colour in the camouflage was not affected by a repainting, and that the supposed "repainting" in Dark Earth has been done with a spraygun, leaving very blurry edges. If the colour had been sprayed by the RAF, it would surely have been oversprayed over the darker areas, something which clearly did not happen.
I believe that the plane was painted in the
standard
Fiat camouflage of Verde Mimetico 3 and Marrone Mimetico 2 on a Giallo Mimetico 3 background: the normal practice for the RAF anyway would have been to repaint the entire uppersurfaces in the Temperate Land Scheme of Dark Green and Dark Earth, certainly not to modify a pre-existing camouflage scheme.
The almost invisibility of the second camouflage colour in the first photo can easily be explained by light conditions, type of film used or the use of a yellow filter, which would have blended the Marrone Mimetico with the Giallo Mimetico, giving the mistaken impression of a 2-colour scheme.
Wartime British crash reports are notoriously unreliable when it comes to the description of the camouflage of downed enemy planes, in time of war the attention was obviously more focused on the technical characteristics of the machines, such as armament and the presence of armour, so it is no surprise that the mottled camouflage of MM.5701 should have been hastily described as having "greenish-yellow blotches".
The second photograph is a scan from a cheap volume published by Grange Press in the UK, the kind of volume normally found in discount bookstores, and I have so far been unable to ascertain its provenience, even if it is probably in the IWM or RAF Museum collection. Inquries with the publisher have received no response, I am sorry to report, but the absence of overspray leaves no doubts in my mind that the original camouflage had been left intact (the shapes in the darker colour are consistantly the same in both photos) and that it was indeed tha standard Fiat 3-colour scheme.